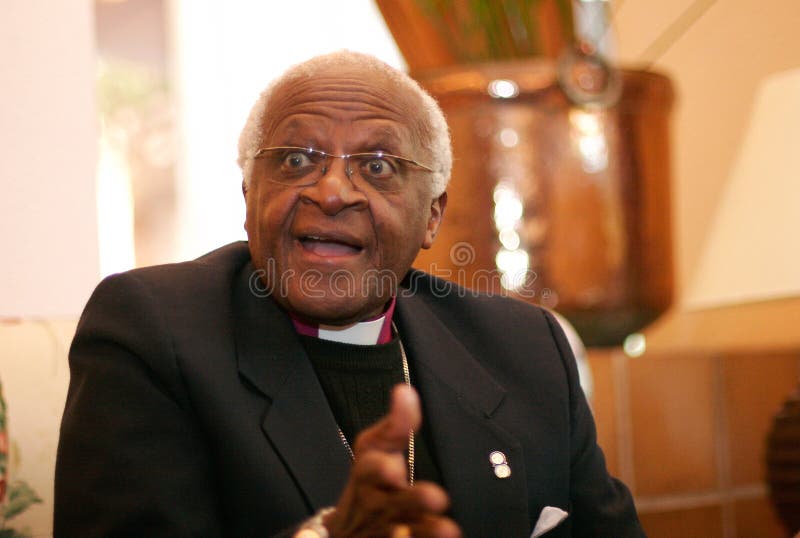 A great soul who illumined the human journey: Archbishop Desmond Tutu 1931 – 2021. (artikel uit The London Times of 27th December 2021.)

Few of us change the course of human history with humour, moderation and humility. Even fewer have been able to use the power of the pulpit to defeat a political system or give a voice to the voiceless. Desmond Tutu almost as much as his life-long friend Nelson Mandela, was the man who saved South Africa from a bloody race war, who turned human rights into a potent political force and who faced his enemies with a shining Christian faith and prevailed.
The "Arch", as the impish and indomitable Anglican archbishop of Cape Town was known, was for many lonely years the only powerful black voice raised against apartheid at a time when Mandela and leaders of the African National Congress were serving long stretches in jail. Many attempts were made to silence him; often opponents including radicals within his own church and community, sought violent confrontation before the fall of the white minority government and vengeance in the aftermath. He refused to go down that path. It was largely thanks to his bravery and wit that many deaths were avoided and many given a chance of reconciliation.
Tutu was a diminutive figure, a man who had suffered polio and tuberculosis in childhood and prostate cancer for twenty years in old age. But he overcame disease, as well as the blight apartheid cast on his early career as a teacher, to become a towering figure in South Africa's history – speaking out against the evils of apartheid to churches and political leaders around the world, forcing moral choices to be made in political life and later chairing the Truth and Reconciliation Commission. This, if not altogether successful, gave many caught up in the old system a chance to put its evils behind them and try to create a new South Africa.
Tutu's courage was manifest not only in taking on the formidable powers of the apartheid state; he also adopted causes he believed were right if neither popular or expedient. He campaigned early on for gay rights, ensuring that South Africa, almost alone on the continent, had enacted civil partnerships and same-sex marriage. He regretted the refusal of a visa to the Dalai Lama to attend his 80th birthday celebrations, accusing the government of bowing to Chinese pressure. And he was a harsh and frequent critic of apartheid – style discrimination against Palestinians in Israel. More controversially, in old age he did not hold his tongue on the growing corruption within the ranks of the ruling African National Congress. He was a withering critic of the corrupt and disastrous presidency of Jacob Zuma, and publicly denounced a party to which he had given a lifetime allegiance.
Despite his importance as a political figure, it was as a churchman that he spoke with greatest clarity. This has given the Anglican church an extraordinary visibility in South Africa at a time when it struggles elsewhere to win the respect of a younger generation. Little wonder that Anglican leaders worldwide have been in awe of him. The Archbishop of Canterbury has paid him warm tribute, and the Archbishop of York has described Desmond Tutu as one of the great saints of the last century, a man he would celebrate with a dance.
Like the late F.W de Klerk, the last apartheid leader against whom Tutu fought for years before marshalling the arguments that forced a change, the archbishop won the Nobel peace prize. It hugely increased his standing. But for him, the greater reward was his own spiritual victory.
World pays tribute as millions mourn his passing:
Desmond Tutu was a patriot without equal; a leader of principle and pragmatism who gave meaning to the biblical insight that faith without works is dead. – Cyril Ramaphosa, President of South Africa.He was an extraordinary human being. A thinker. A leader. A shepherd. – The Nelson Mandela Foundation.He felt with the people. In public and alone, he cried because he felt the people's pain. And he laughed – no, not just laughed, he cackled with delight when he shared their joy. – Thabo Makgoba, Archbishop of Cape Town. He never lost his impish sense of humour and willingness to find humanity in his adversaries. He was grounded in the struggle for liberation and justice. – Barack Obama *** Without him we would have been lost as a country. – Miriam Mokwadi, a mourner.